Precise Surface Cleaning Machine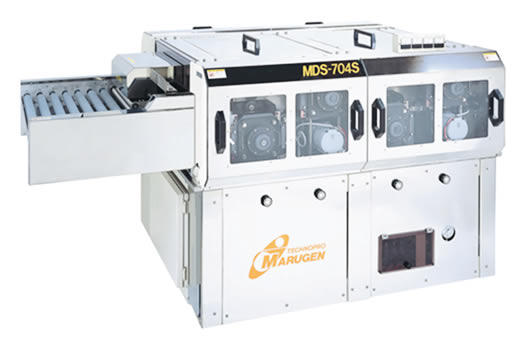 ・ Significantly reduced machine width! Effective width is 700mm that is approximately three quarter of conventional machine. This creates additional space around supplementary facility side.
・ Offers Easy Loading System With long apron portion (650mm)
・ Narrower pitch roller is achieved by combing large and small diameter roll of conveyor roll! Support roller can also be activated. Since there are no slips within the board, sheet board can easily be carried.
・ Transparent cover is made easily visible of inside the machine and any operational movement can be checked.
・ Any water contact parts and exterior panel are all made of stainless-steel



Being Fully-Automatic System made


No board thickness setting is required. It enables to automatically measure the thickness and changing of setting can be done once the board is loaded.
It can just similarly be scrubbed even alternately loading a variety of different thickness of boards.
Buff dressing can automatically be performed with dresser board.



Absolutely Applicable to Thin Plate


Equipped with Instantaneous Stop function and Jumping mechanism.



Alarm History Function


Alarm history is displayed on the touch panel.



Buff can be replaced at a time of maintenance only since conveyor unit is placed for each shaft

*Buff can be replaced by crosswise release !!
Designed for quick and easy way to replace using the Marugen special tool and once familiarizing yourself with this will take only 5min per shaft.

2 washing nozzles for each shaft which are right for heavy duty grinding

Applying major diameter bearing allows for High rigidity and longer life duration and bearing can be maintained free without refueling in the maintenance free condition.
・Machine specification
| | |
| --- | --- |
| Max. work width | 600/700mm |
| Min. work length | 200mm |
| Work thickness range | 0.1-5.0mm |
| Buff dimension | φ150 x 610 (710) |
| Spindle motor | 2.2kw 4P Step-less control |
| Spindle revolution | 2000r.p.m Step-less control |
| Oscillation | 350 Cycle/min. |
| Oscillation motor | 0.2kw |
| Conveyor motor | 0.3kw Step-less control |
| Conveyor speed | 0-6m/min |
| Conveyor roller pitch | 50mm |
| Water supply shower nozzle | 2pipes/1 Buff 8pipes at total |
| Auto pressure control | Load pressure / spindle motor Ampere feedback adjustment function (for all spindle) |
| Thickness setting | Full automatic |
| Back up roller | Ceramic coating on sus solid roller |
| Machine 3-D size | W 1350 x L 2170 (Front c/v included) x H 1100mm |
*The specification is subject to change without notice for modification.